If you're as old as I am you may remember some of the auto body repair techniques of the late 70's and early 80's. It was an era of body fill ,shape and repair rather than today's replace replace replace.  While Bondo is still used in the automotive industry there are so many other uses for this stuff its ridiculous.
What I like most about Bondo is the fact it will not harden in the can and you are able to store it almost indefinitely. The other amazing quality about this stuff is it hardens  and is ready for sanding and paint in under 15 minutes.
Repairing The Porch With Bondo!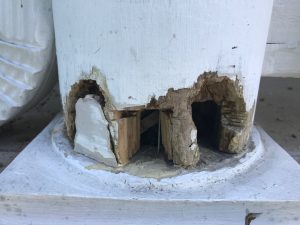 Recently I noticed the columns holding up my covered front porch were showing signs of rotting at the very bottom. Apparently some of the caulking around the top of the column weathered and was allowing moisture in the pole and causing rot.
Continue reading "BONDO – Its not just for 1970 auto body repair!"