I would have never thought I would be posting to my blog about an electric weed trimmer. I am what you call a die hard gas yard tools kind of guy. In fact I was so upset when LawnBoy was bought out by Toro in 1989 and simply did away with the amazing 2cycle machines that every landscaper had in the 80's and 90's.
When I became a home owner back in 1998, lawn mowing and weed trimming were just necessary yard chores. I did some research and decided  The Echo GT-2000 was the most cost effective gas powered trimmer for my size yard.  Over the years it has proven to be very reliable with minimal head aches. Back in 2018 I cleaned the exhaust port out to remedy a stalling issue (CLICK HEAR TO READ).
The unit is now about 22 years old and is going to need a full overhaul to get back to top running condition. I have been so busy lately its easier just to buy a new unit. The search was on for a new string trimmer. Reading reviews about the trimmers I found a new category that intrigued me – ELECTRIC -. Really? I thought electric trimmers were tethered to an electrical outlet and only used on homes with small yards. To my surprise these devices have now evolved into a competitive category! The manufacture claims the battery operated trimmers can compete on the same level as a gas powered unit.
WHAT WEED TRIMMER TO BUY:
I read all the reviews, watched a couple hours of You-Tube and digested the information on these trimmers so you don't have to. My thinking was as we move our cars and other devices away from gas I figured I would give an electric trimmer a shot.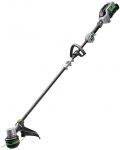 My purchase was the EGO Power+ ST1521S 15-Inch Strig Trimmer with POWERLOAD and Carbon Fiber Shaft 2.5AH (About $225 at Amazon w/ battery and charger)
WHY DID I PICK THIS ONE:
During my research the EGO ST1521 checked a bunch of boxes that I had in my head.
As powerful as a gas trimmer
Light weight, but strong
Decent run time (20 to 30 min)
Easy to spool up the line
.095″ line capable
Variable speed
Is the EGO ST1521S as powerful as my old gas trimmer. Oh yeah! In fact I believe its more powerful. The spec says the EGO has a max of 5800 RPM and the ECHO 7200, but you would never know.  The EGO spins plenty fast!
Reviewers said the unit is light weight and balanced. It even has a carbon fiber shaft that is guaranteed for life. Personally I feel the unit is a bit heavier than my ECHO, however it is very balanced and the extra weight is not noticeable. A shoulder strap would have been a nice add on, but is NOT included.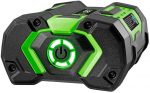 Run time is always a concern with electric power tools and the EGO does not disappoint in that department. They claim the 2.5ah battery can provide about 30 min of run time. I personally have not used it more than 20 min per use and have always had juice to spare. Other reviewers have stated a 40 to 45 min run time. You can purchase additional 2.5ah and 5.0ah batteries if needed.
a trimmer treat! Spooling up the line
Excuse my language, but re-stringing the trimmer has always been a pain in the ass. The original head on my ECHO had to be wound just perfectly for the "BUMP" advance to work properly. Years later I switched to the head that you inserted pre-cut line into the head (strips) and that meant flipping the trimmer over every few minutes to replace the line.
Well move over bacon here comes something way better. The EGO ST1521S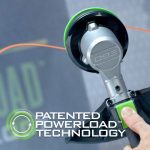 has an AUTOMATIC SPOOL FUNCTION. Yes you read that correctly! Simply thread the line into the head evenly. Basically you need about 12ft of line and spool it through the head leaving 6ft on each side. Then push the magic button and the line will wind automatically. This is a serious time saver and keeps the stress level of winding the spool to a minimum. Plus they recommend you use the .095″ line which is much more durable than the .080″.
Over All Assessment of the EGO ST1521S
I am very happy with my purchase, in fact as my other gas power tools wear out I would be willing to try other EGO products, such as their leaf blower, chain saw and even lawn mower (hmm ok maybe not the lawn mower… but who knows their lawn mower got good reviews too – READ HERE)
Will this trimmer last another 20 years? I would assume the motor and head could make it to 20, but the 2.5 battery would most likely have to be replaced sometime after year 3 or 4 under normal use. At current prices the 2.5ah battery is about $145. Lets do some math – If regular fuel is $3.00 per gallon you would have to use 48 gallons of gas to equal the cost of the battery. That's about 12 gallons of fuel per year. Considering I might only use 2 gallons of gas for the season the cost of operating the EGO is about $30 more per year than the gas trimmer (assuming the battery lasts 4 years)
Bottom line
PROS:
Just as good as gas
Durable
Light weight carbon fiber shaft
Easy to load
Easy to advance
Quiet operation
Better for the enviorment
CONS:
Price is high for a residential trimmer
Battery cost over 4 years is more than fuel costs
Could use a shoulder strap
Thanks for reading my blog!
Don't forget to check out my store: www.GeekGearStore.com