Recently a coworker of mine purchased a Logitech M500 corded mouse on Amazon. Its relatively inexpensive at $24.99 and perfect for office use.  As you can see from the image below, its a nice size mouse with a few extra buttons. I believe Logitech has been selling them for years.
Now I get why amazon has frustration free packing!
The mouse came in retail packing and upon cutting open the sealed packing he accidentally cut the USB connection off the mouse. He immediately tossed the mouse in the trash and proceeded to order a second. I saw this and said, hey don't toss the mouse, let me attempt a repair.
Easy Mouse Repair
I considered soldering the wire back together, but that would prove to be messy and there would be a large bulge close to the base of the mouse. My second idea was simply to replace the entire USB cable from an older mouse that was sitting in my parts bin.
STEP 1 – Open the mouse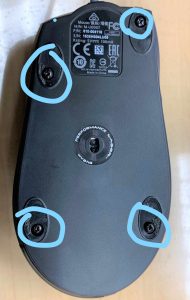 The Logitech M500 has the screws hiding under the 4 pads on the bottom of the mouse. Remove the 4 pads carefully and set aside. Then remove the 4 black screws to gain access to the mouse.
Carefully pry the top of the mouse away from the base to revile the internal components .