If you have been to my site before you know that I'm a DIY type of guy and that includes taking care of my cars. I have been hand washing and waxing my cars since I was 17 years old. Car care technology has changed over the last 30 years and I'm always looking for the next big thing to try on my vehicle. Lately there has been lots of talk about Ceramic Coating your car for the ultimate shine and protection.
I did a ton of research into different types of Ceramic Coatings and most of them have proven to be very expensive, and they come in small bottles so you could possibly need two to complete your car. Also, if you put too much on your paint could develop high spots and it could wind up worse than when you started.

Turtle wax 53409 hybrid solutions ceramic coating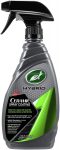 For my 2017 Lexus GS, I wanted to try Ceramic Coating, but didn't want to spend hundreds of dollars, and I wanted a product that was a bit more forgiving when applying. I decided to give the Turtle Wax 53409 Hybrid Solutions Ceramic Spray Coating a shot! At only $13 for a 16oz bottle  at Amazon how could I go wrong!
PREP – PREP – PREP
The success or failure of any ceramic coating is going to be based on the amount of effort you put into preparing the car for the application. I keep my Lexus fairly clean, however it is my daily driver and has about 52,000 miles on it. The paint is in good shape but does feel a little rough when I run my hand over it. These were the steps I took to fully prepare my paint
Wash and dry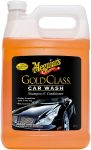 Sounds simple enough, there are lots of car wash products to use. Some talk about being PH balanced and most promise a clean car. I have used just about every car soap from Turtle Wax, Meguiars, Mothers, to  Armorall.  In fact at one point I mixed them all together in one bottle LOL. No matter which soap you choose make sure the car is CLEAN! The soap shown on this page is about $20 for a gallon at Amazon
Clay Bar – Clay Mitt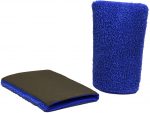 This step is very important, if you have never used clay on your car before you're in for a treat. The clay removes all the road grime that has built up over time and makes the paint as smooth as glass. However, when using clay be sure to use some type of lubricant. This not only makes the process easier, but will help you from messing up the paint!!

I personally like to use a clay mitt over a clay bar. I find the mitt easier to get into the curves on the car and in general is just easier to use. I found this one on Amazon for $25 and it worked very well. A quick tip, try to keep the clay part of the mitt out of the sun as it can make the clay too soft and a bit harder to work with.  In order to work with the clay and keep the friction down a clay lubrication is highly recommended. I recently tried Clay Luber from Chemical Guys and couldn't of been happier. It was relatively inexpensive at only $9.00 at Amazon
Rub it with alcohol

This step is optional. If your paint has a ton of wax or sealant on it already you may want to strip that before applying the Ceramic Coating. The easiest way to remove any residue from previous waxes and polish is with rubbing alcohol. A 70% isopropyl alcohol solution mixed 50/50 with water in a spray bottle is what I like to use.  Just spray on and wipe off.  I am writing this article during the COVID-19 pandemic and isoproply is currently very expensive. I found this small bottle at Amazon for $15 WOW!  Don't buy it, hopefully you can find it for less.
Time to apply the turtle wax 53409 ceramic coating
As I said earlier, pure ceramic coating is difficult to use, you must be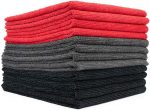 careful not to leave high spots. The turtle wax product is much more forgiving on the paint, however they recommend only  2 sprays per panel and you must work quickly using two microfiber towels. The first to evenly spread the ceramic coating and the second to wipe off the excess. Be sure to pickup some good quality microfiber towels – A dozen for $16 at Amazon
Final thoughts on this Ceramic Coating
As I said at the top of this article I have been cleaning my own cars for 30 years and have used tons of different products. From the original Simoniz paste wax to the old Turtle wax liquid (that left all the white residue on the car) to the newer "polymer wax" . The ceramic coating is just another tool to keep your car nice. I don't expect the hybrid coating to last as long as an expensive Ceramic Coating, I would expect to get 6 months to a year out of it.
I will update this article with the coatings longevity sometime in the near future.
Thanks for reading my blog,
Joe
Don't forget to visit my Etsy store – www.GeekGearStore.com