If you read my blog on a regular basis you may know that my boys are into youth & college hockey. We are always looking new training tools to try and even build. The Falcone TR-15 looked pretty cool so we thought we would give it a shot.
My boys are probably the biggest skeptics when it comes to new hockey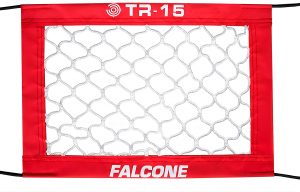 training equipment, and after unboxing the Falcone TR-15 they immediately laughed and thought this device was going to be a waste of time.  Having many more years under my belt, I told them to give it a try before making any judgment and to my surprise they did just that.
Unboxing and Setup of The Falcone TR-15
The Falcone TR-15 is a simple device, some hockey netting with 4 bungee cords attached. The materials are sturdy and reasonable for the price. The netting is typical of a home based hockey net. My kids typically leave their training equipment outside, and over the years we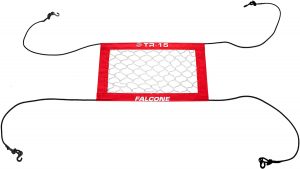 have seen nets break, bungee cords dry rot and equipment fade from the sun.
As with all home based hockey equipment to increase longevity  I would not leave the TR-15 outside in the weather for any length of time.
Setup is as easy as it looks, attache the bungee cords to the sides of the net at the height you want and pull tight. We found the tighter you make the bungee the better the Falcone TR-15 works.
How does the Falcone TR-15 Work?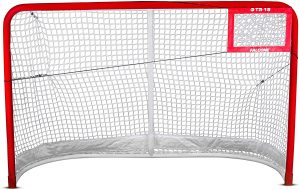 If you are into hockey training products you may have seen a puck rebounded that is for passing. You "pass" the puck into the rebounded and it passes it back (but only for pucks on the ground). The TR-15 takes it to the next level. I would say this device does for hockey what a pitch-back did for baseball. Shoot the puck at the target and the puck will come back to you.
My player review of the Falcone TR-15
My older son plays D2 college hockey and he happened to be home because of the COVID pandemic. I had him take 100 shots at the Falcone TR-15 and tell me his thoughts. Originally he though he was going to break it with his slap shot, so I encouraged him by saying go for it! He was unable to break the unit. (guess his slap shot is not as powerful as he thought) He was then having issues getting the puck to return to him, some pucks fluttered away and some just didn't even attempt to come back. We made some adjustments by tightening the TR-15 to the net and adjusting the position of the unit. This improved the number of pucks that were returned to him. Overall he said it was a fun device to play around with, but would not use it as a serious training device.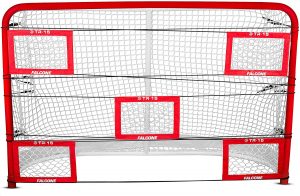 My younger son plays club hockey and High School Varsity hockey. Again we set up 100 pucks and fired away at the Falcone TR-15. His initial impressions were good and he enjoyed the device. He said it probably would work better on the ice instead of the shooting pad in the backyard. He also said having more than one target would increase his level of training as having more targets to shoot at would be beneficial.  Overall  he enjoyed the device as well and said it would probably benefit his game to use it as a training tool.
Summary
PROS
Good construction with durable materials
Easy to set up and install
Saves time rounding up pucks in the back of the net
Great for target practice if you have more than one in the net
Works on or off the ice
CONS
You have to hit the target in the center to get the puck back
Pucks can rebound at odd angles and you have to chase them down
Need more than one in the net to increase level of training
Becomes costly if you are purchasing 4 or more trainers
Overall we feel that the Falcone TR-15 does add value to shooting practice and should be added to your shooting tools list.
They are currently on sale at Amazon for $35.00 – Click here to check it out
*Disclosure – Falcone did provide a TR-15 for my family to review.
Check this out too – DIY Broken Stick Hockey Trainer
Thank you for reading my blog,
Joe