My oldest son drives a 2007 Honda Accord Coupe and like any 12 year old car the exterior is weathered and showing its age. The car isn't worth much however to a college student on a limited income its worth its weight in freedom.  Recently he began attempting to spruce up his ride and one area that needed attention was the wheels. The stock Honda rims were showing signs of corrosion and just looking bad.
He decided that paining the rims black would bring new life into them and at the same time make the ride more suitable for his age group. The goal here was NOT to make the rims perfect, but mainly to hide the corrosion and improve the look of the car on a college kids budget. (Under $100)
I would say they would have to pass the 10ft test. Do they look good from 10 feet away? Yes? Great you did a good job. Let's get started.
TOOLS YOU NEED (Hopefully You have some of this)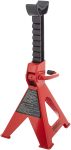 A nice set of jack stands $26.00 at Amazon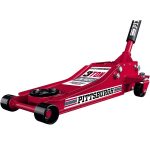 A decent floor jack $140 at Amazon  Could be found cheaper at Harbor Freight Tools!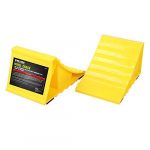 Wheel chock or something to put behind the wheels $17.00 at Amazon
That should get you started, hopefully you already own or can borrow these tools or your budget just went out the window. Just remember to be SAFE when working on your car.
Loosen the lug nuts before lifting the car off the ground
Never rely on the floor jack to support the car. Always use jack stands
A little common sense goes a long way.
Supplies you need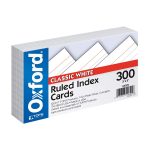 Index cards for masking the tire (or something to mask the tire with) $5.00 at Amazon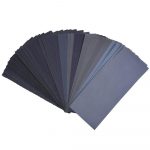 Sandpaper 200 & 400 grit or for $8.00 you can get this nice array of different sand papers CLICK her for sandpaper

Dupli-Color Automotive Primer/Filler $8.50 at Amazon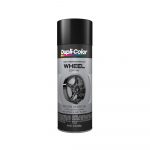 Dupli-Color High-Performance Wheel paint $12.00 at Amazon Comes in a nice variety of colors

Finally, Dupli-Color Wheel Gloss Clear Coat $8.00 at Amazon This is optional, however it will add a nice protective coating to the wheel
Lets get started
We started by taking two wheels off the car at a time.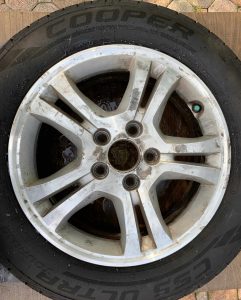 This was the condition of the wheels before we started. There was lots of corrosion and oxidized metal flaking off.
We used a scraper to remove any flaking metal and then proceeded to sand the entire rim with 200 grit paper.
The sandpaper I recommended above is water resistant so we decided to wet said the wheels which made the whole process much easier.
Once you have fully sanded the wheel with 200 grit paper, go back and do it again with the 400 grit paper.
Now that the sanding process is complete wash the rim with DISH DETERGENT. Dish soap is good at cutting grease and removing any wax or other contaminants that may be present.
Time to prime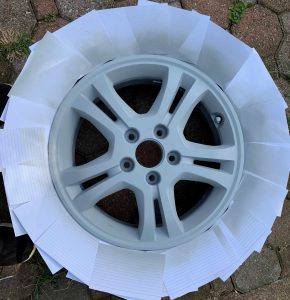 Masking a tire can prove difficult, so the index cards were used as a quick and easy method to protect the tire.
Two coats of the Dupli-Color prime was applied allowing for sufficient drying time in between applications.
Two cans of prime should be enough to cover all 4 wheels
Apply the color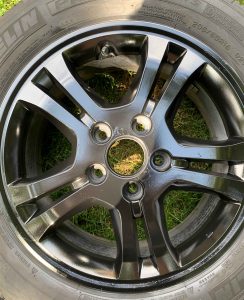 Two coats of the black Dupli-Color was applied as well, again allowing for sufficient drying time between coats.
We choose Dupli-Color paint because it was specifically formulated for wheel applications. I am guessing it is a bit more heat resistant than regular spray paint.
Clear Coat Brings Out The Shine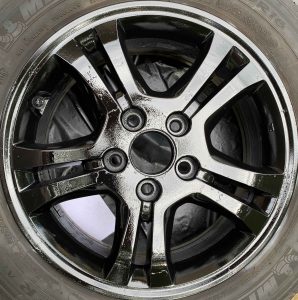 Two more coats of clear and you're done.
Did they come out perfect – NO
Can you see where the rim was corroded – YES if you look hard
Is there any orange peel? Oh yeah there is.. You could avoid a lot of that by letting the rims dry longer between coats. Plus a little wet sanding of the clear coat with very fine sand paper would help.
Bottom line, they look great from 10 feet away and that was the goal of this project. For about $60 in paint supplies and an afternoon of work we would say this project is a success. Plus I got to hang out with my teenage son (and he never wants to hang with his Dad)
Finished product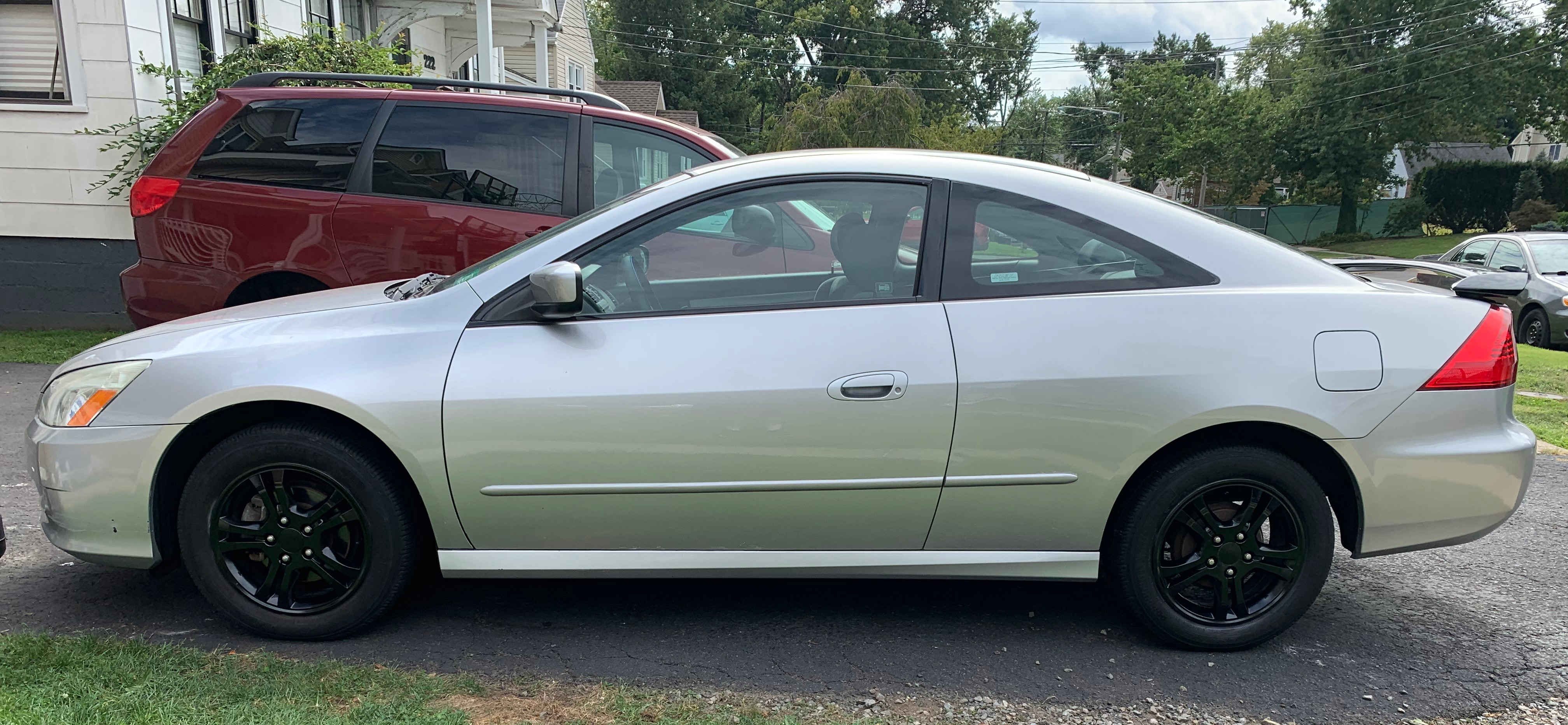 Lets see how long this paint job holds up. My son is a freshman in college and he will need to drive this Honda for at least another 4 years. I'll report an update a year from now and we will see how well the paint holds.
Final Thoughts & Tips
If you can do this in doors that would be better. We were fighting wind, dust, bugs during spraying.
The index cards were a great mask for over spray, but on a windy day they tend to blow away.
Don't forget the center caps! They are plastic, but still need to be washed and lightly sanded
Allow enough drying time. My son was in a rush to get this done since he needed the car to go to work/school. To do this better and avoid orange peel it should probably be done over two days.
Materials used – 2 cans of prime, 2 cans of black, 1 can of clear, 1 pack of Index cards.
Thanks for reading my blog,
Joe