I had a user this week call me complaining that Microsoft Edge would freeze on launch and then crash and close. After investigating her event logs it was determined the faulting module was emodel.dll
Faulting application name: MicrosoftEdge.exe, version: 11.0.16299.371, time stamp: 0x5abdaed4
Faulting module name: EMODEL.dll, version: 11.0.16299.371, time stamp: 0x5abdaf79
Exception code: 0xc0000409
Fault offset: 0x000000000018bcae
Faulting process id: 0x2900
Faulting application start time: 0x01d3e794d12ebc95
Faulting application path: C:\WINDOWS\SystemApps\Microsoft.MicrosoftEdge_8wekyb3d8bbwe\MicrosoftEdge.exe
Faulting module path: C:\WINDOWS\SystemApps\Microsoft.MicrosoftEdge_8wekyb3d8bbwe\EMODEL.dll
Report Id: 560abf0f-e6c8-4b45-8b96-d448f9aa934d
Faulting package full name: Microsoft.MicrosoftEdge_41.16299.371.0_neutral__8wekyb3d8bbwe
Faulting package-relative application ID: MicrosoftEdge
I have not seen this error before and there were no other users in the environment experiencing this issue. My first troubleshooting step was to see if there were any unique applications that  were specific to this user.
This particular user is the CFO of the company and logs into a number of banking websites. To enhance security many banks force customers to download additional software to supplement logins in order to prevent intrusion and hack attempts. This user was using a product from IBM
IBM Trusteer Rapport & Microsoft Edge EMODEL.DLL
According to IBM's website IBM Trusteer Rapport is an advanced endpoint protection solution designed to protect users from financial malware and phishing attacks. Using industry-leading technology, Trusteer Rapport is designed to defend against MitB attacks, remove malware from endpoint devices and protect customers by preventing them from entering phishing sites. Trusteer Rapport offers a broad security solution that can help your organization reduce costs, enhance your fraud detection and prevention, and help to provide a seamless customer experience.
What they don't tell you

Rapport can reek havoc on Microsoft Edge causing it to crash and not perform correctly.
The issue is due to Rapport's Early Browser Protection. To correct the issue you need to disable this feature.
To disable Rapport's Early Browser Protection:
Open Rapport's Console (Press the Windows logo key+ S to open Search >Type 'Trusteer' > Click 'Trusteer Endpoint Protection Console')
Advance to the next page by clicking on the green arrow at the bottom-right.
Under 'Security Policy' at the top left corner, click on 'Edit Policy'.
Enter the letters as they are shown in the image and click OK.
Locate 'Early Browser Protection' and select 'Never' in the drop-down menu.
Click 'Save' and reboot your computer.
Check if the issue is resolved.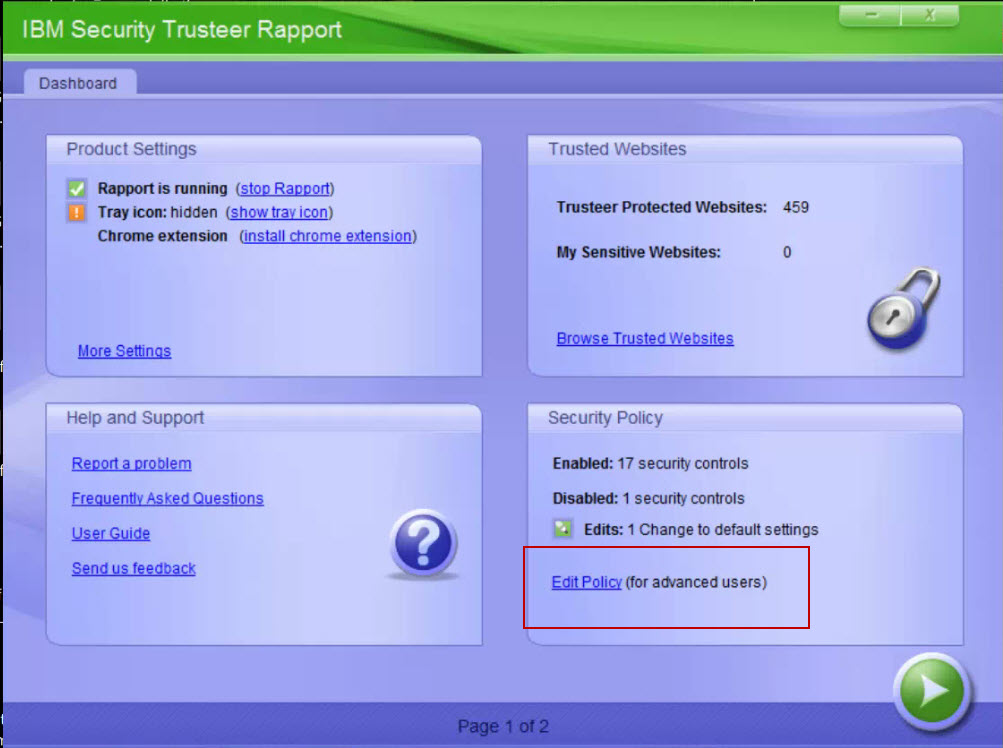 Hopefully this helps someone and saves some troubleshooting time.
Thanks for reading my blog,
Joe