I have been making mason jar night lights for at least 10 years. I try to make them in various colors and styles. In addition to my Sun & Moon, Red, Green, White, Purple and Flickering Candle I have now added Emerald Green!
I know LED's can be programmed for any color of the rainbow, however there is still something special about the standard 5mm led. I enjoy finding unique colors and adding them to my creations.
These emerald green buggers are truly a special color. Just look at the image below that shows the contrast between the emerald green and standard led.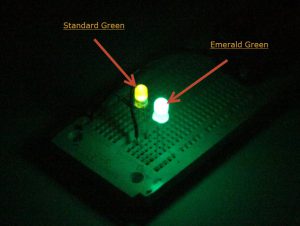 Emerald Green Mason Jar Night Light
The emerald green night light can be purchase ready made at my Etsy store for $17.99. Click this link if you're interested.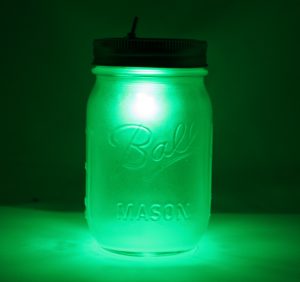 Use The Led's in Your Own Project
If you prefer to use the led's in your own projects, I also have batches for sale in my shop. For $9.99 including shipping you can purchase a 10 pack of the led's which will also include current limiting resistors and a guide book for building your own projects.

A brief : How to Add LED Lighting to your project
If you're just interested in more information regarding adding LED lighting to your projects, stop by this blog post, Add Led Lighting To Your Project. For some great information and a few ideas.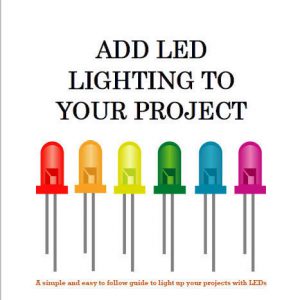 Finally, here are a few other examples of my night lights. Remember to stop by my Etsy store www.GeekGearStore.com to pick one up for your next summer BBQ or indoor party. They also make awesome gifts too!

Thank you for reading my blog,
Joe