Most homes don't have network cables running to each room, so many of us rely on WiFi to connect our devices while at home. The problems begin when the ISP installs our router / WiFi box in a less than optimal location, and usually it can not be easily moved. This is where a simple WiFi extender can augment your existing signal and extend the reach of your home network to every corner of your house even the back yard.
How WiFi Extenders Work?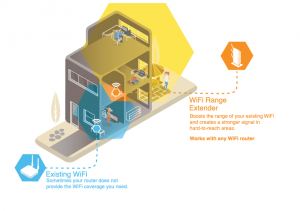 In its simplest form a WiFi extender is just a repeater. The extender is listing for a signal from your home WiFi router and repeats that signal "LOUDER" in an area of your home that is not hearing your main WiFi signal. Basically just relaying the information between your device and the main router. Think of the extender as a "man in the middle"
Where Do I Place My Extender?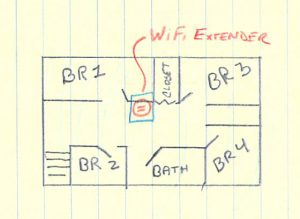 The first step to installing a WiFi Extender is obviously setup. Some models have a touch screen to allow for a quick and easy setup. Others can be connected to your PC via USB to input settings or can be connected over WiFi. Once the setup has been completed it is important to select the proper location. You need to find somewhere that's close enough to the main router to obtain a strong signal, but far enough to extend the networks range to where it's needed. Extenders also require power so you have to keep that in mind as well. It may take some trial and error to find the optimal location to increase the signal strength and also power the device.
Which WiFi Extender Do I Buy?
Every major player in the WiFi router market also makes an extender. So which do you choose? Don't fear my fellow reader, I did some research and spoke to some of my colleagues in addition to my own experience to bring you this fully unscientific list.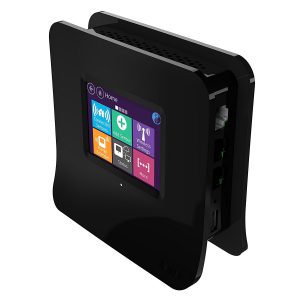 This Securifi range extender is at the top of my list because of one simple reason. TOUCHSCREEN. No need to USB to your computer and install software, simply plug it in and set up right on the device. They boast a 3 minute setup and the unit works with any existing Wifi device. At a cost of only $69.99 at Amazon its reasonably priced too!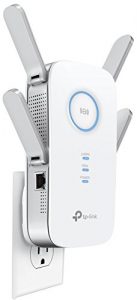 Another great  extender is the TP-Link AC2600. This device also claims to work with any router or gateway and can simultaneously repeat 2.4ghz and 5ghz WiFi signals. This device even has a wired Gigabit port on it. Connect wired devices like smart TV's or game consoles directly to the repeater. Plus you can switch the device to access point mode and connect it directly to your router.  A very versatile device at only $120.00 at Amazon.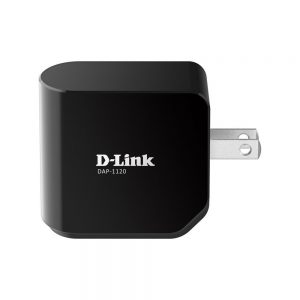 In the you get what you pay for category we have this D-link N300 WiFi extender. It has decent reviews on Amazon and for $13.99 it can possibly do the job in your house on a budget. According to D-Link it can obtain speeds up to 300Mbs and is compatible with all wireless devices and routers.
WiFi Mesh Network
A mesh network will also extend your Wifi signal to the far reaches of your home or office, and they don't create secondary access points (SSID). Think of it as having your own cellular network in your home. Devices can bounce from WiFi point to WiFi point as needed. The downside is mesh networks are relatively more expensive than the simple WiFi repeater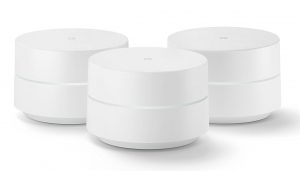 If you have a home that is 4,500 sq feet  then you probably have the money to splurge on Google's WiFi system. You can start off with one unit for $125.99 or get maximum coverage from a 3 pack for $279.99. These devices team up and work together so you can continue to add coverage as needed.
Summary
I remember back in the day (15 or so years ago) trying WiFi before it was an actual thing. We dropped a PCI card in a desktop and a PCMCIA card in a laptop and were communicating at super slow speeds at virtually no range. I remember thinking to myself this tech is no way ready for prime time. Here we are 15 years later and just about every device we use has some type of WiFi. Having good WiFi coverage in your home is just about as important as having a good cordless phone system.
When choosing a WiFi extender for your home look for units that have good reviews, a simple setup and a fair price. Make sure they can cover all the frequency ranges your devices need 2.4Ghz, 5Gz, Wireless AC / N/ G ETC.
If you have questions, or need some advice please leave a message in the comments.
Thank you for reading my blog,
Joe