I was cleaning out the closet again and stumbled across this Emerson 888 Atlas radio. It was given to me by my grandfather and according to the internet it was released by Emerson in 1958/59.
An over view of the Emerson 888 ATLAS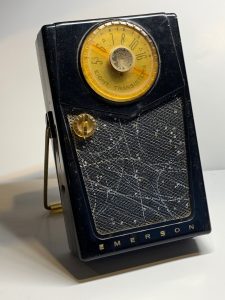 It is amazing how technology has changed in the last 60 or so years! This radio was capable of tuning the AM band radio stations using 4 AA batteries.
It boasted 8 transistors, and said it was a pocket radio. Pocket? It is way too large to fit in any pocket. Think Mr. Spock's tricorder. The radio came with a leather carry case with a strap.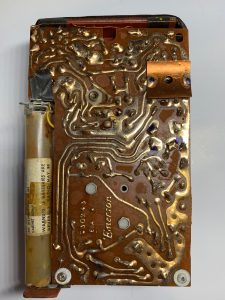 Emerson was based in Jersey City, New Jersey and had released a few other similar designs in 1958. They were know as the Pioneer, Vanguard, Explorer and Atlas. All four were named after the pre-NASA-era rocket programs of the US Air Force, Army and Navy.

Surprisingly after inserting 4 AA batteries the unit fired up and was functional!  I want to believe these printed circuit boards were all hand made and hand soldered. Just look at the simplicity compared to any modern circuit board.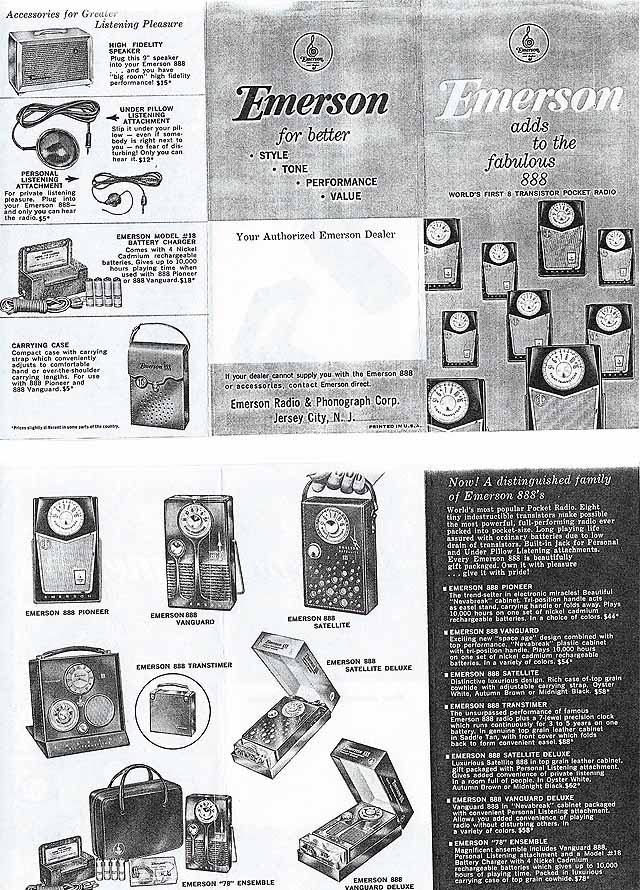 Not too much to do in the late 50's…. Maybe watch the 4 or 5 stations you were able to receive on your TV or listen to the news or the game on the radio. No internet, No Netflix, not many choices.
BONUS RADIOS – Realtone 12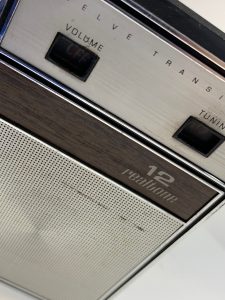 Fast forward 10 years to 1968 and we find this Realtone 12 – twelve transistor radio.
This radio takes a 9 volt "Transistor" radio battery and is truly pocket size. It only took an additional 10 years to miniaturize the tuner and circuit board.
A much simpler time! Believe it or not pocket radios are still manufactured today. If you want or need a simple radio Amazon has a number of different models to choose from.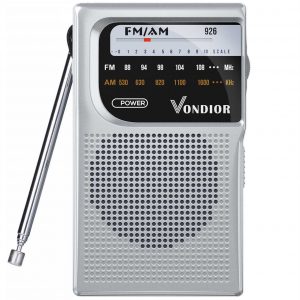 Look at these two fine examples on Amazon.
This example is a Vondior AM/FM pocket radio.  Appears to have an analog tuner and sells for about $20 at Amazon if you want to check it out here is a link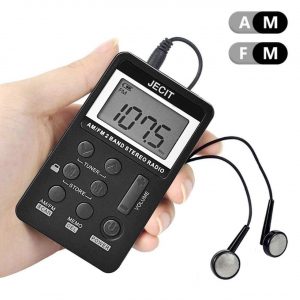 For the more digital minded, this unit features an AM/FM digital tuner with pre-set stations. No speaker on this guy so you will have to use your wired headphones to get a listen. Also only $20 at Amazon
I wonder how many of these were made in the 50's & 60's? How many survived? These radios are sentimental to me since they belonged to my grandfather, however after a quick search on eBay there are quite a few floating around looking for homes.
Thank you for reading my blog!
-Joe
Related Reading
A Blast From The Past – Panasonic Panapet Radio
Don't forget to visit my online store
www.GeekGearStore.com