Cleaning out the basement yet again I stumbled on an old 20″ iMac. By today's standards this thing is a huge piece of junk. 250GB hard drive, 1GB RAM, Core 2 processor. At 11 years old its better suited as a boat anchor then a functional computer.  However the standard equipment iMac Keyboard does function as a blue tooth keyboard and can be used with other devices.
I happen to like the iMac keyboard, it feels a little small at first, however once you get accustomed to the feel it makes a great companion to any device.
The keyboard is relatively easy to pair to your device if you follow these simple steps.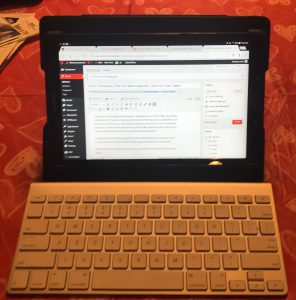 How to pair an iMac Keyboard
You are going to want to make sure you have fresh batteries in the unit, the keyboard has a power indicator on the upper right, that will light even if the batteries are too weak to power the unit. Trust me, it took a bit for me to figure that out.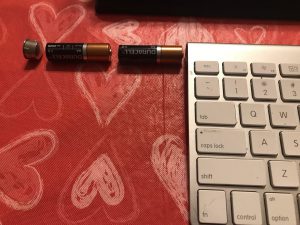 First, if this was a keyboard that was previously used, make sure the device it was connected to prior is turned off, has Bluetooth turned off, or you remove the keyboard from the list of devices aka "forget this device"
Next turn the iMac keyboard on and continue to hold the power button until the power indicator blinks twice, repeatedly. The double blink indicates the keyboard is now in pairing mode.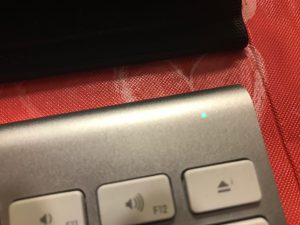 Now open the device you wish to pair, maybe your Android tablet, iPad or even an iPhone. Got to the Bluetooth settings and look for the keyboard.
When selecting the iMac Keyboard form the list you will be prompted to enter a code followed by pressing the enter key.
Testing and troubleshooting on various devices
During my testing I had the following results.
iPhone – immediately showed up in the list of BT devices and connected on first attempt
iPad – immediately showed up in the list of BT devices and connected on first attempt
Samsung Tab-A – Did not show on the list first try, but did after I restarted the BT service. Then on the fist connect attempt gave an error could not connect to this device. On the third try the pass-code box popped up and the device connected properly.
Final thoughts.
These little keyboards make a great addition you your tablet and are easy to store and travel with. Much better than most travel BT keyboards on the market today. If you don't have an old one around gathering dust, they are still available for purchase at Amazon for around $30 bucks
Thank you for reading my blog,
Joe