Another old meter to add to my collection. This Sencore FE160 meter was manufactured in 1973 and has aged quite well. I connected the meter to a wall outlet and it fired up and is working great! The only reconditioning was to give the exterior and interior a through cleaning.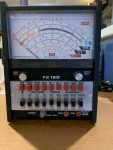 When cleaning equipment I like to use as mild a cleaner as possible and work my way up to something stronger if necessary.  I find automotive products to be very mild and since I'm always cleaning and polishing my cars I have many different types of cleaners at my disposal.
Great Cleaning Products to use:
Seriously – This wipe set works great for cleaning everything!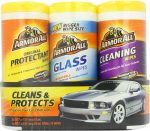 The glass wipes are very mild and great to start cleaning any surface. The cleaning wipes are a bit stronger and finally the protectant wipes are great for vinyl surfaces. They are cheap too! $13 @ Amazon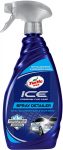 To add a shine to my finished items I like to use a synthetic car polish. Something similar to Turtle Wax ICE. Its light, easy to apply, will not harm most surfaces and leaves no residue.
Again really low cost at only $11 from Amazon
What makes the FE160 tick!
Since the FE160 was apparently working great there was no repairs or restoration to complete. However, if you have been reading this blog I enjoy taking apart vintage electronics (all electronics). I cracked open the FE160 to take a look inside.
What I found was quite amazing! 1970's technology, which appears to me to be on the cusp of what our modern day tech evolved to today.  There was a printed circuit board with a few components, resistors, capacitors ect. The bulk of this meter appears to be hand soldered  as you can see. The nice thing is the wire is not brittle and insulation is not falling off in my hands like the cloth wire they used in the 40's.
This FE160 has the original quality control tag still attached.
The funny thing about the FE160 is it looked like quite a number of people had to sign off on it before it could pass QC.
You don't see much of that any more with most products. Remember the days when you would buy a pair of jeans "Inspected by #5" would be in the pocket!
FINAL THOUGHTS
The FE160 was great in its day, however for most this is now a museum piece.
There are plenty of digital multi meters that fit in your pocket making this old relic an obsolete antique. The FE160 has found a place in my archive and will remain there for a while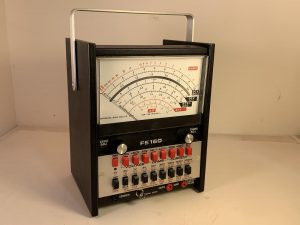 If you happen to have an FE160 and would like a copy of the instruction manual. A PDF copy can be found here. CLICK HERE
I hope you enjoyed this road down multi meter memory lane.
For another good read, I restored a vintage meter from the 1940's into a piece of artwork, take a look it came out great! The Superior Instruments Dynarometer 1260
Also don't forget to stop by my ETSY store – www.geekgearstore.com