I found this USB key to my heart while surfing the Internet the other day and thought it was a very unique item. A fun loving gesture to tell that special geek in your life how much you care about them.
Just think of the possibilities:
16GB of photos to share with the one you love.
16GB of videos of your favorite times together.
Store your love notes, letters, emails ETC.
Turn it into a unique way to ask someone to PROM?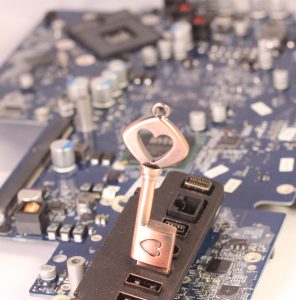 The possibilities are only limited to your hearts creativity!
The drives remind me of an old fashion skeleton key. Plus they are made out of METAL and have a heavy "sturdy" feel to them (NO PLASTIC)
The USB Key can also be customized!

The Key To My Heart can be  customized with a red heart and any 11 character phrase of your choosing (including spaces)
The person you give this to will have a great surprise when they plug it in their computer and the drive icon changes to a heart with your saying.
Great phrases – "I Love You", "Be Mine", "Marry Me", "JCO & EEO", "PROM"

These awesome USB drives can be found on Etsy!
Follow the link ->