Its not even Halloween yet and I'm writing a post about what toys are going to be hot for Christmas! For my readers that have children we have all been there, done that in previous years. Running out to the Target or Toys 'R' Us only to find the last Tickle Me Elmo is gone. Thinking we are a creative bunch we begin surfing Ebay and Craig's list only to find the toy we want is commanding a $200 premium over list price!
I urge you to get out this weekend, or stay in and let you mouse do the shopping and pickup these hot toys before its too late. I have done some research and have made my best guesses as to what toys they want. Also I will give my best guess if there is going to be a supply issue.
Hot toys for teens
Since I love electronics, lets start there!
Nintendo Switch – $299.99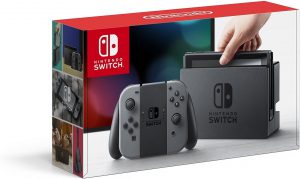 Switch is the latest in Nintendo's long line of video game consoles. You can play at home on the big screen or take the device portable on the go!
Hot Factor – 8 out of 10 : Switch has been on the market for a number of months now and has been well received by the video game community. If you ask me its "evolutionary" NOT "revolutionary" and is just the next incarnation of the Wii.
Stock – I estimate stock will be available and this will NOT sell out
$299.99 at Amazon w/ prime shipping!
SoundMoovz – Cra-Z-Art – $59.99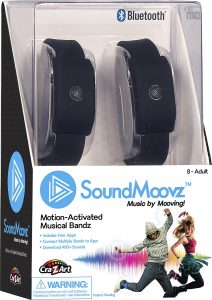 This is an interesting concept, link what looks like a Fit-Bit to your phone and it makes sounds as you dance around. Appears like it would be fun for a while but could grow tiresome before you get your $60 worth. However, if you have two or more they could be linked together for a "band" effect. The product and company name both have the letter "Z" in it so they must be cool to your average tween.
Hot Factor – 6 out of 10 : I have not played with this yet, and if you have one you want to send me go for it. I think on Christmas morning this will be loads of fun along with the drone and remote controlled car, however by New Years day your kid might be all out of Moovz
Stock – Looks like they will be readily available.
$59.99 at the all mighty Amazon
LEGO Star Wars First Order Star Destroyer 75190 Building Kit (1416 Piece) $159.95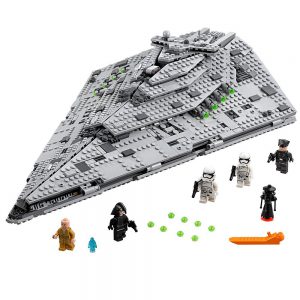 Wow only 12 cents per piece of Lego, what a bargain!  Daddy, Daddy can you help me (meaning do it for me) build this enormous 1,416 piece Lego Star Destroyer. Sure son, let me just tell your mother that shes not going to see us until New Years! Seriously, I still love Lego but back in the day I was more a freestyle guy having a huge bin of random bricks (which were actually the ruins of sets like this one) that I stuck together to make cool stuff. As a parent you usually can't go wrong with Lego, and if you're a Star Wars fan this is a great gift.
Hot Factor – 9 out of 10: A number of generations have loved legos, there's something special about building a creation brick by brick that can transcend all age levels.
Stock – Yeah these will be around, and if not the Star Destroyer, then the X-wing or some other Star Wars specific Lego
$159.95 at (you guessed it) Amason.com
For the younger crowd
WowWee Fingerlings – $14.99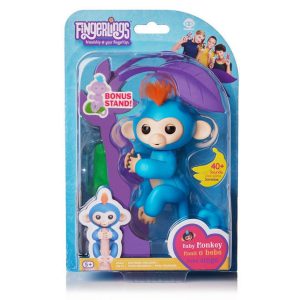 All I have to say is Wow Wee.. you may have already missed the boat on these things.  If you want to pay $14.99 stop reading this blog right now and get in your car and go directly to Toys 'R' Us. Amazon seems to only be offering these from 3rd party sellers and they are commanding a  price of $30 and up, more than double the MSRP. I also saw a batch of Chinese knock-offs too so if it seems too good to be true it is! Now kids can give their toys the finger, and the toys can also tell them how they feel. These monkeys can blink eyes and turn heads, with realistic sounds. Swing them, pet them, resell them for hundreds more then you paid for them!
Hot Factor – 10 out of 10: I don't know why these are hard to get, I'm sure they are pumping them out by the millions in China. Never the less kids love them.
Stock – Good luck! They are already in short supply, don't worry I'm sure I will read how someone got trampled giving the finger…ling. Think Cabbage Patch Kids
Teddy Ruxpin – Return of the Rux! – $99.99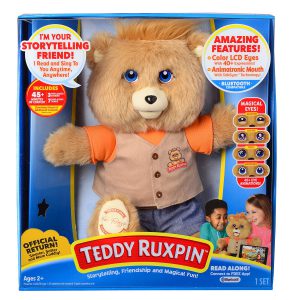 According to Wikipedia Teddy Ruxpin has been around the block a few times. This little orphan stuffed animal went from Worlds of Wonder, to Hasbro, to YES! Entertainment, to BackPack Toys and now has a home with Wicked Cool Toys. In the old days we would buy cartridges to feed out Teddy Ruxpin. Now in the age of smart phones and apps your Teddy can be updated with new in app purchase adventures on demand. Watching a brief video it would appear that Teddy Ruxpin has LCD displays for eyes. I hope they are made from Gorilla Glass because we all know how careful our children are with a $99 teddy bear!
Hot Factor – 7 out of 10: I thought we were finished with the Tickle me Elmo type toys. I have to be honest, it does look like fun.
Stock – I would run out now and pickup one of these talking robots as soon as possible. I have a feeling the closer we get to the big day the harder they will be to find.
$99.99 – Teddy Ruxpin by Wicked Cool Toys
furReal Roarin' Tyler, the Playful Tiger – $129.99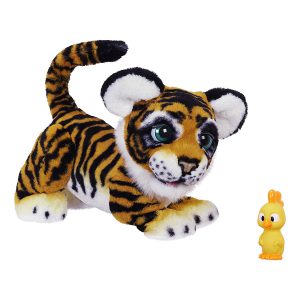 Hasbro is back with their next installment of the furReal line. Introducing Tyler, the Playful Tiger. My kids are older now, but I can remember spending about $100 on furReal Squawkers McCaw Parrot. Mr McCaw was played with very little until he was gathering dust on the shelf. After a few years he was sold on Ebay for $50. I don't know about this one, for what this thing can do is it worth $129 and would the target age group appreciate it? Yeah you are going to have some great cell phone video of your kids "roaring" at Tyler but after that then what? Go buy a puppy.. the gift that keeps on giving.
Hot Factor – 5 out of 10: Expensive toy for what it can do, I think you will be bored with Tyler quite quickly. I would say skip it and go for Teddy Ruxpin!
Stock – No worries here, I know this toy has a high cute factor, but really $129 stuffed animal?
$129.99 – Tyler the Playful Tiger
Good luck this holiday season finding all your gifts, I know from experience what a stressful time it could be. As parents we feel a need to buy the perfect gifts for our children regardless of the cost. Now that my oldest son is 17, when he looks back he can barely remember the toys we got him as a child, but does remember our family gatherings.
Thank you for reading my blog.
-Joe