The retro hits just keep on coming! Nintendo has been banking on our love for nostalgia lately reviving tons of classic games and consoles. Late last year they released a limited production run of the NES classic that had about 30 installed classic NES games and included 1 retro controller. They were next to impossible to purchase selling out almost instantly everywhere and even bringing Amazon's servers to a crawl. I guess the next console in the progression of things is the SNES Classic!
SNES Classic launching later this year: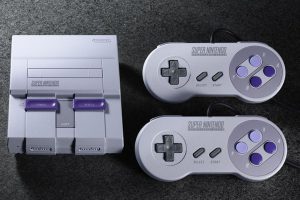 Looks like we will be able to purchase this closer to the end of the year, sometime  late September. This time around however the unit will include two controllers and will have an $80 price point.
Games will include:
Super Mario World
Super Mario RPG: Legend of the Seven Stars
The Legend of Zelda: A Link to the Past
Super Mario Kart
F-Zero
Super Metroid
Street Fighter II Turbo: Hyper Fighting
Super Punch-Out
Super Castlevania IV
Donkey Kong Country
Mega Man X
Kirby Super Star
Final Fantasy III
Kirby's Dream Course
Star Fox
Yoshi's Island
Contra III: The Alien Wars
Secret of Mana
EarthBound
Super Ghouls 'n Ghosts
Star Fox 2 <- Never released?
At under $4 per game you can't beat the value, and they are some of the best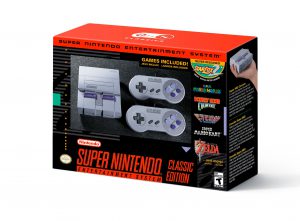 games Super Nintendo had to offer. I think the best part of these retro consoles is they give the younger generations a chance to experience these games on modern (easy to setup) hardware. Not everyone is like me and would prefer to configure an emulator on a Raspberry Pi.
Into Retro Consoles?
NES Classic Edition – (If you can find one)
Atari Flashback 6 – $70
Atari Flashback 7 -$80
Thanks for reading my blog.
-Joe
** Don't forget retro gaming at GeekGearStore.Com