I have to preface this by saying I am in no way an Amazon fan boy, however I do enjoy many of their products. Amazon has produced many huge hits in the past and a few major fails. Does anyone remember the Amazon Mobile phone? By far the Amazon Echo has been a huge hit, I have owned mine since its release.
Over the past few years Amazon has attempted to integrate their Alexa software into as many devices as possible. There is a slue of Echo devices, plus Alexa has been integrated into both the fire stick and Amazon tablet. You can even build your own Alexa out of a Raspberry Pi.
This time it would appear that the Amazon Echo Dash is more of a fail then a success.
Why is it such a fail?
First off and most importantly, this thing can't play music. I can understand from Amazon's point of view with a limited battery life and a speaker the size of a quarter I'm sure the sound quality would be extremely poor. I would love to have the option and make my own decision on usability.
Many users of the device have reported paying huge markups when ordering items via the bar code scanner. It would appear that some  3rd party vendors are gaming the system marking up items 200% to 300%. The Amazon Echo Dash does not do any price comparison or even alert you to what price point was selected when placing items in your cart.
Don't take my word for it, take a look at an excerpt from a recent review of the device: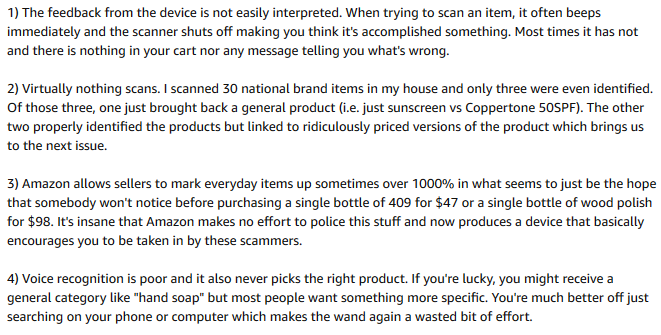 How can they make Echo Dash better?
Allow it to play music, even if it sounds bad.
Give better feedback when ordering, a voice response would be great – "I have added Snapple Iced tea to your cart at $9.99".
Prevent 3rd party sellers from marking up every day items, and gouging unsuspecting customers.
Improve the scanner response and WiFi connectivity.
Should you buy one?
I would say for $20 yes go for it!  After all Amazon is offering a $20 credit making your Amazon Echo Dash is ultimately free. <Click here to visit Amazon and pick yours up – $20>
It would be nice if we found someone that could hack the hardware and extend the capabilities, maybe turn on Blue Tooth, or add a headphone jack. Looks like we finally found the next generation of CueCat. If you don't know what a CueCat is click the link below regarding Radio Shack.
Thank you for reading my blog
-Joe