Another holiday season is upon us and like every year we will spend countless hours picking out gifts for loved ones, friends and coworkers. This year in addition to all the traditional gifts why not pick out a gag gift they will enjoy. Maybe even liven up the banter around the water cooler in the office.
I searched high and low on amazon and picked a few great gag gift ideas that wont break the bank and will be perfect for that secret Santa too.
Not much of an explanation necessary.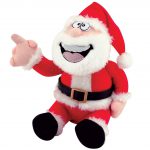 PRESS/PULL MY FINGER: Press my finger and hear me talk and fart and vibrate around..

BATTERIES INCLUDED: I come with batteries and the batteries can be replaced easily.

HEIGHT: 8 Inches Tall-6 Inches Wide

SAYINGS/FARTS: 7 Sayings and Farts when you press my finger

WHAT DO I SAY?- I usually FART FIRST and the say the following: 1. "Cmon sit on my lap". 2. " Theres a gift for ya". 3. Ho ho ho -Faaart". 4. Up the chimney I goooooooo..fart". 5. " That's all your getting for Christmas". 6. " Was that on your list?". 7. Ahhhh The Holiday Smells".
---
Get Ready to be the Hit of the Office Holiday Party! Check out the Related Video Short below to see The TeaBagger™ Tea Infuser in action

The TeaBagger™ is great for funny gag gifts, stocking stuffers and bachelorette party gifts. Perfect for Prison Break fans

Easily insert regular tea bags, no loose leaf tea needed. This infuser is not just a gag gift; it actually makes tea.

The TeaBagger™ Tea Infuser is dishwasher safe, easy to clean, made from 100% food grade silicon and has a stainless steel chain with a hook.

Its lifelike shape was inspired by Michaelangelo's Statue of David. Perfect to give to your friends as fun gag gifts, sex gag gift or an April Fools Day gift. It's fun to touch too. Design patent pending.
Comes in colors! White balls, Black balls, & Blue balls! $14.95
---
4 Poops in an attractively labeled bag

Poops are on the small side, around 2-3 inches in size.

Ideal for a gag gift or to let someone know you don't like them

Sure to get a laugh!

Wow, 4 poops for one low price!
---
Replacement spindle allows you to record (and re-record)

When the user pulls the toilet paper, motion sensor plays your personalized message

Fits most toilet paper holders; includes on/off switch

Endless comedy possibilities
The things I could make this say! The gag gift that keeps on giving. $12.95
---
A special gift for that dirty dick in your life!
Bring some fun into the shower or bath with the BigMouth Inc Weener Kleener circular soap.

One size fits most

A great gag gift for bachelor parties or bridal showers

Shaped like a doughnut for easy use.

A great gag gift for bachelor parties or bridal showers
Keep yours clean for only $9.99
---
Bad Parking Business Cards $12.99

This gag gift could get you shot! Use with care
SICK OF A**HOLES PARKING LIKE JERKS? Finally you can unleash your righteous anger with Witty Yeti's funny parking notes.

LIKE A FAKE PARKING TICKET BUT MEANER. Simply slip it under the windshield wiper, through the driver's door window, or into the gas tank with some sugar…Editor's Note: Definitely don't do this.

DEPUTIZE YOURSELF in the fight against bad parking. We can't win without your help, soldier. There are people parking over the lines as we speak!

SERVE THE PARKING GODS by distributing instant justice to the disrespectful idiots incapable of following the basic rules of parking lot decency.

PRINTED ON THICK, CLASSY UV COATED PAPER for maximum revenge. Each pack comes with 50 cards, 10 copies of each joke.
---
Don't get caught up in all the Holiday stress this year. Take some time out to make a joke and enjoy some laughter, even if its at your friends expense!
For more serious gift giving try this – GIFT IDEA
Thank you for reading my blog,
Joe