The Landsat program is the longest running satellite imagery program on Earth. The first satellite was launched on July 23rd 1972 and the most recent launch was February 11th 2013. With Landsat 9 to be launched in 2020.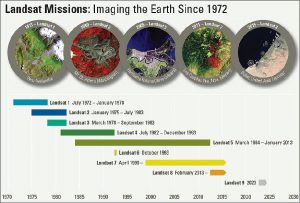 The instruments on the Landsat satellites have acquired millions of images. The images, archived in the United States and receiving stations around the world, are a unique resource for global change research and applications in agriculture, cartography, geology, forestry, regional planning, surveillance and education, and can be viewed through the U.S. Geological Survey (USGS) 'EarthExplorer' website.  Landsat images are usually divided into scenes for easy downloading.
NASA Unloading Landsat Parts (New Old Stock)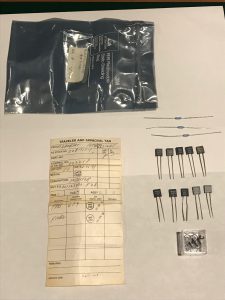 I was trolling the electronic shops the other day and stumbled across an odd lot of parts. They were all labeled Landsat 1990 and had various resistors, inductors and other spare parts.
The parts are NEW old stock spare parts from the NASA Landsat space program. Remember the US Governme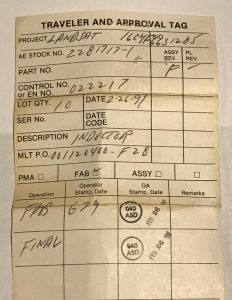 nt paid TOP DOLLAR for these components, as each part was precision and top of the line.
The spare parts Include the original 27 year old anti static bag and travel and approval tag with mission listed on the label. (take a look at the image) Based on the year, these parts were most likely for Landsat 6 or Landsat 7. In typical US government fashion you need to have as many spare parts on hand while building the unit "just in case of any issues" However, once the satellite is in orbit the parts suddenly become obsolete.
Where do vintage satellite parts go?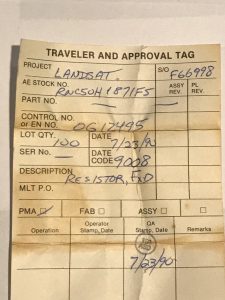 Etsy and Ebay of course! I bought up a few dozen of these odd lots. Decided to kept a couple for myself and I'm offering the rest to you. They make the perfect gift for the outer-space enthusiast in your life! A simple batch of surplus resistors or inductors that have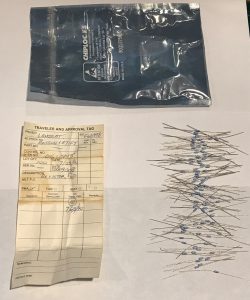 been waiting patiently  on the shelf for a chance to leave this planet.
They are never going to make the journey, but maybe they can travel to  good home to someone who will treasure them for what they could have been!
Check out – Vintage Satellite Parts on ETSY or EBAY
Thank you for reading my blog,
Joe