I guess this is the natural evolution for the Alexa digital assistant. Poor Alexa has been trapped in that cylinder all these years. Now with the latest version from Amazon, the Echo Show can see you and "show" you things. I have had the original Amazon Echo from day one. My family and I have found it very useful, weather we use her for homework help or to get the scores of the New York Ranger game or just to simply play Jeopardy.
Check out the new Echo Show At Amazon
What can Alexa Show – "Show You?"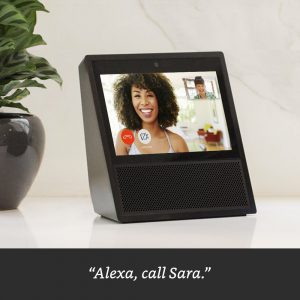 The most interesting new feature is the access to video and voice calling. Basically this is a face time clone, however it takes it one step further with the new "Drop In" feature. This new feature is designed to auto accept a call  giving you a 10-second window to reject. I can see this being useful if you want to check in on an elderly  family member, or check in on the kids after school.
The Alexa smart phone app has also been updated to allow video & voice calls between devices. Existing Echo owners you're not left out in the cold, all Echos have now been updated for voice calls. I tested it and and it works well.
Other new features allow the Echo to show you YouTube videos based on a search request, hook into your baby monitors, display song lyrics from Amazon music and all of the previous fun stuff Alexa has been known for.
I hope the people at RING take advantage of this new device, I would love to have Alexa show me who is ringing the bell.
Sounds Great! Sing me up.
If you  have an existing Echo I'm sure you can ask Alexa to order you the new version.  Or you can check it out on Amazon's website    The show will start shipping on June 28th 2017, however you can pre-order yours right now. One Echo Show will run you $229.99, and you can get a pair for $100 discount using the code SHOW2PACK at checkout.
Order your Echo Show from Amazon $229.99
The older Echo and Echo dot are still available too!
Thank you for reading my blog,
Joe
Related Reading: