There is close to 5 billion mobile phones in use in on our planet and almost 1.5 billion automobiles operating around the world. Through a very inexact science it may be safe to postulate that most drivers own a mobile phone.  For quite a number of years governments have been enacting hands free laws and promoting the concept of hands free in numerous public service announcements. In fa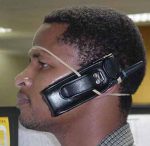 ct at least 1/2 of the states in the United States have some type of hands free law on the books. My question to you is how do you keep your phone hands free, yet usable in your car? Which mobile phone car mount do you use?
Types of mobile phone holders:
There are many different types of mobile phone holders on the market, however when it comes down to it most of them can be lumped up into the following categories.
Suction Cup Mount
Vent Mount
CD-Slot Mount
Grip Pad
Cup Holder
Trim Clip Mount
Suction Cup Mounts – Really Suck (no really.. they suck onto the windows)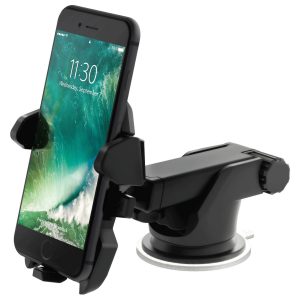 Suction cup phone mounts usually consist of a silicon rubber suction cup and some type of extension arm with an adjustable phone holder on the end. The mounts are relatively easy to install and remove and fit most phones on the market. I like this model, and have use it for years without issue. The phone snaps into the holder with just one motion!  iOttie Easy Touch 2 $19 at Amazon
Pros : Easy to install, adjust, remove and low cost!
Cons: Could loose suction and damage your cars interior or the phone itself. Possible to obstruct view if mounted to the windshield!
Vent Mounts Get Blown Away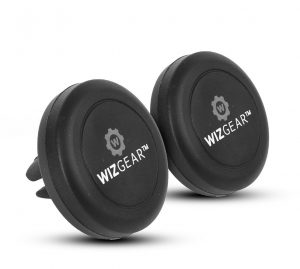 The vent mount simply fastens to the slats in your air conditioning vents.  Your phone attaches via a spring loaded clip, or via a magnetic plate and metal disk which you would adhear to your phone. Magnetic mount by WizGear $9 at Amazon.
Pros: Easy to install, remove, low cost, and does not obstruct your view
Cons: Obstructs the air flow of your air conditioner, the added weight could stress your cars vents breaking them. Magnetic versions may be too weak to hold some heavier phones.
Audio CD Slot Mount. (these still exist?)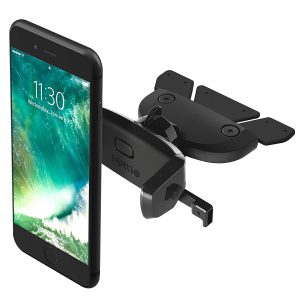 Do cars still even come with CD players? With all of our in car entertainment options, Bluetooth Streaming, SiriusXM, USB, and even FM (HD) I wonder if anyone is still sliding plastic disks with music on them into their dashboards. Apparently someone thought it would be a good idea to jam a mobile phone mount into the CD slot. I can tell you first hand they work very well.  Again my pick is by iOttie Easy One Touch CD Mount $20 at Amazon
Pros: Puts your useless CD player to good use, keeps the windshield clear.
Cons: Could put undue stress on your CD players drive mechanism, depending on your cars CD slot location, the phone could block other controls, and by the off chance you actually still play CD's this would be in the way.
Grip Pad Non Slip Mount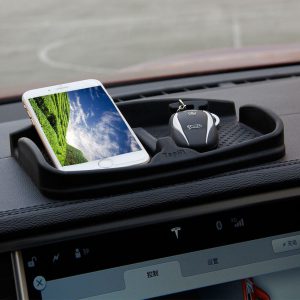 Drop a grip pad (more like a grip tray) on your dashboard and this device is supposed to be able to hold your phone and other items in place while your drive. In theory the silicone rubber should be able to adhere to your dashboard without glue or adhesives and leaves no residue. In reality unless you drive like Grandma (no offense) this may not be the mount for you.  Anti-Slip Grip Pad $12 at Amazon
Pros: Really easy to install, just drop and go. Will not harm dashboard with glue or suction cups. Durable and washable.
Cons: Has a tendency to move depending on your driving style, which could result in damage to your phone.
Cup Holder Mount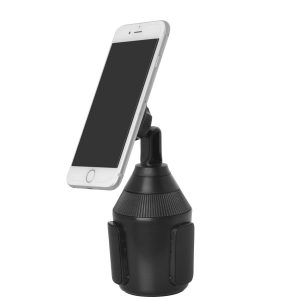 Most cars on the road have at least one cup holder, and if you don't normally drink and drive this may be the mount for you. I use my cup holders, and I think they would be to low for the phone to be in a useful position. The idea behind a phone mount is for the driver to be less distracted by the device. I would think looking to my right and taking my eyes off the road would be a bad thing. However if you want to see what they are about Amazon has a durable cup holder mount for $20 
Pros: Easy to install and remove, take from car to car. No glues or adhesives
Cons: Too low on the dashboard, need to look away from the road to view. Hey now where do I put my drink?
Clip Mount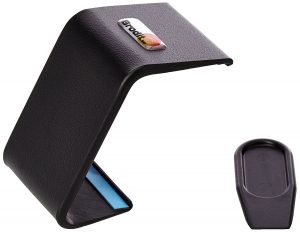 Clip mounts are usually vehicle specific. They are custom to fit in the small gap between the air conditioning vent and the dashboard. Most come with a small pry tool to assist with installation. These are the most expensive of the mounts and some come in two pieces. For example, first you purchase the clip that mounts to the car, then you pick the mount for your phone. (weather it be a tension mount or magnetic mount) I have seen these systems cost upwards of $50. Here is an example of a clip for the Chevy Silverado
Pros: Custom fit for your car. Can use a spring loaded grip mount or magnetic. No glue
Cons: Expensive!, only fits your car and would be useless in your next car. Possible to scratch trim during install or even damage trim with the added weight of your phone. Blocks vents on some cars.
When selecting a car mount here are a few tips.
Can this help me be less distracted while driving?
Will this mount damage my car over time?
Can it be easily removed and used in another car?
Will it ruin the appearance and anesthetist of my dashboard?
I have always been a fan of the suction cup windshield mount, while my wife prefers the vent mount. I just purchased a new car and would like to keep the phone off the windshield and also keep my charging cord hidden, so I am still working on a solution.
Related Reading:
Mercedes Benz 16GB USB Drive (In the style of a car key!)
Thank you for reading my blog,
Joe