The Sun & Moon Jar night light helps set the mood in any room. Place the jar in your family room, bed room, back yard patio or even take it on your next camping trip. No matter where you place the jar, the warm glow will surely add ambiance to your surroundings.
Today I'm going to explain the steps to make your own Sun & Moon Jar.
Visit www.GeekGearStore.com for a completed version of this project!
Supplies you will need:
Tools You Can Use:
Let's Get Building!
If you are not familiar with how LED's work give this post a quick read.
SUN & MOON JAR

STEP 1 – Prepare The LED module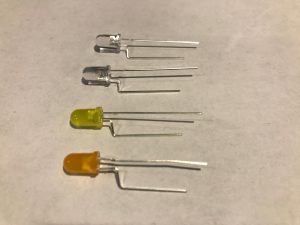 Take each LED and bend the Cathode (negative) post as shown.
I use a small needle nose to make the "L" shape.
Continue reading "DIY Summer Project – Make your own Sun & Moon Jar Night Light"