To turn back the hands of time, its something we all wished we could do at some point in our lives. Well this project won't help you punch a hole in the space-time continuum, but it will help you make a cool desk or wall clock that has a counterclockwise movement.
We begin with the Q80 clock movement from Quartex they are readily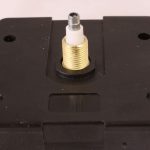 available on the internet and I have a good stock of them if you would like to purchase one. (just email me at ideas@webcommand.net)
STEP 1 – Remove the back cover
To begin we need to remove the back cover of the movement. There are two plastic latching clips on each side of the movement. To remove the cover insert a flat small screwdriver, or pocket knife and gently pry the clip up slightly. Then wiggle the back cover off. Repeat this procedure on the other side. At this point the back cover should slide off easily. Don't worry about any of the internal components as they are all self contained  within a clear plastic case. However do note the battery terminals can fall out. They are easy to reinsert so just put them on the side for now.
Continue reading "Want To Turn Back Time? How To Make A Clock Tick In Reverse! (Counterclockwise)"