The iPhone will be celebrating its 10th birthday in June. Awe double digits already! It feels like only yesterday we were looking at the world through your 2.0 megapixel camera and gazing at your 320×480 display. If we were lucky an upgrade from the standard 4GB model to a mind blowing 16GB.
All joking aside, in my opinion the iPhone is one of the most revolutionary devices in modern times. The amount of computing power in such a small device would have been incomprehensible just a few decades ago.   Just think about it, roughly two-thirds of Americans are walking around with access to all the knowledge of the entire human race in their pockets.
What does Apple have in store for its 10th anniversary?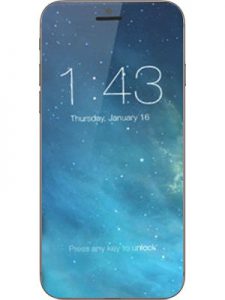 According to Bloomberg, Apple is preparing three phones for launch this fall, two will be the upgraded models of the current generation. (I would guess 7s & 7s Plus??) However the third is going to be something special, a so called best of the best iPhone and of course it will come with an alleged  higher price point.
Whats so special about the new phone?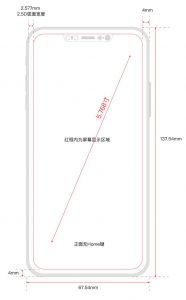 According to Bloomberg's sources, the new phone will be stainless-steel and will be about the same size of the current iPhone 7. However a new curved glass screen will have a minimal 4mm bezel and be almost as large as the 7 Plus.
If you can trust the tech drawing to the left it would appear that the front camera, sensors and ear piece are under the display. Also the home button /finger print scanner is hidden as well..
Speculated Features: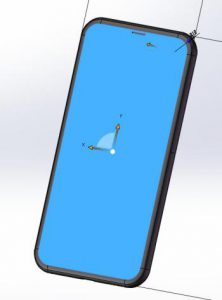 Front-facing Touch ID beneath the display.

4mm bezels around the entire edge of the device.

2.5D contoured glass on the front and back of the device surrounded by a metal frame.

Wireless charging.

Same dimensions as the iPhone 7.

5.8″ OLED display.

"Invisible" front-facing camera hidden underneath the display.

Large power button featuring two points of contact.

New camera options including a dual camera system and different placements.
 What can we actually expect?
We can most likely expect more of the usual from Apple, they will announce issues implementing the new features and supply delays with the new phones at launch.  We will see a small group of die hard Apple fans waiting online to be the first with an iPhone 8 "10th Anniversary Edition" and the rest of us will just wait until they are back in stock. Don't forget this iPhone will have the fastest processor yet with iOS 11.
Personally I hope Apple releases a "cool"  new device, it doesn't have to be revolutionary like the original iPhone, but I do hope there is some new technology that will at least make the iPhone fun again.
Thanks for reading my blog
-Joe