Solid State Drives continue to gain traction in the computer industry. I personally have been ordering all of the workstations for my office with SSD drives for at least a year now. The slight premium in cost and reduced capacity is well worth the performance increase.
I was baffled to find out today that Western Digital released their first SSD port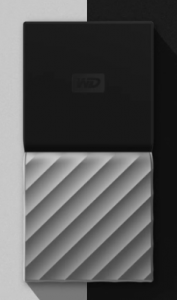 able drive. I was thinking to myself "Wasn't this already a thing?" I already have my own portable SSD. Well I actually made it myself with a stock SATA SSD like this one from Amazon, and a cheap USB 3.0 enclosure. My total cost was about $160 for around 525GB of storage.
I have been using Western Digital's rainbow of drives (black, green, blue, red, yellow, gold ETC.) in my devices for decades and for the most part they have always performed well. Their new portable SSD is part of the newly redesigned My Passport line of drives and will come in three sizes 256GB for $99, 512GB for $199 and 1TB for $400. All drives support USB Type-C and Type-A (adapter included) with speeds up to 515MB/s Continue reading "First portable Solid State Drive (SSD) Released By Western Digital"