Over the last few years lots of game start-ups have been using the .IO domain name to launch a variety of internet games. Before I begin listing my favorite .IO games would like to give a little background regarding the domain itself.
.IO domains are administered by the Internet Computer Bureau, a domain name registry in the United Kingdom. It is assigned to the British Indian Ocean Territory, However Google treats .IO as a generic top-level domain since so many webmasters use the domain more generic than country targeted.
This fact is great for game developers!
No geographic targeting by Google for .IO domain names
Still a large pool of available domains to choose from.
Urls are usually shorter than a .com or .net ETC
Just how many .IO games are there?
At press time I was able to locate just over 170 .IO games through Google, and like most fads there are some games that are simple and loads of fun, while others are just bad clones of the popular ones.
Some of my favorite .io games:
#6 – Paper.io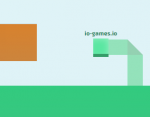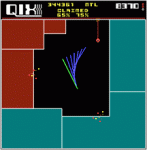 This is a great twist on the classic QIX game. Loads of fun however in my opinion the game is not a true .IO game. You are playing against bots and not other players which makes the game a little predictable. After a few days of playing this game I was able to beat the bots and win! Just a little background on the original Qix game, it was released by Taitio America in 1981.
#5 – Wings.io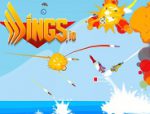 This game was loads of fun too. Fly around in a 2D land using various weapons to blow up your opponents. Every so many minutes the game changes between a general free for all, to an outer space free for all , to a destroy the carrier. My only complaint about this game is regarding the controls and a bit of lag. Controlling the aircraft is difficult to master and on occasion the lag makes the game unplayable.
#4 – Brutal.io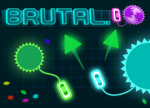 A great concept in this game, drive around this electrified board throwing your flail at opponents to kill them and then eat their energy to make yourself bigger. This is similar to the Agar.io style games, however with a welcome twist.
#3 – Skribbl.io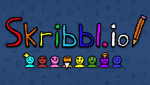 Back in the 90's TV game shows were all the rage. Two of my favorites were Win – Loose Or Draw and Pictionary. We were able to watch "B" celebrities draw goofy pictures while contestants earn valuable prizes. Skribbl.io brings the fun to an .IO game. The concept has been around, and I also remember there was an IOS game that was a similar concept. What makes this game special is that its real time – live!
#2 – Slither.io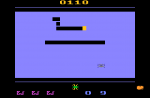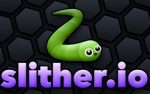 A great new take on the classic snake game. Such a simple concept yet so much fun to compete against other players. Does anyone remember when the first Snake game was released? According to Wikipedia, looks like it was some time in the mid 1970's. My first Snake experience was on the Atari 2600 with a game called Tape Worm.
#1 – Agar.io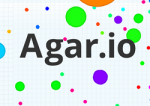 You might be saying this game is tired and played out, but it was my first experience playing an .IO game. I actually was pretty good at it and wasted many an hour at home and working gobbling up blobs. I don't play as much any more, but it was great for keeping me occupied.  On occasion I did experience lag at times, and wish there were "lives" so you didn't die instantly but I guess that's what made the game a challenge.
What does the future hold?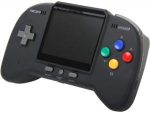 Maybe we can build the .IO game library into a portable device. Games could have an online and off line mode for playing on the go. I'm sure it wouldn't be too hard to achieve with a Raspberry Pi. I am such a huge fan of the Raspberry Pi, such a useful device.
Great Pi Starter Kit At Amazon – $69.99
Thank you for reading my blog.
-Joe