I have a typical KitchenAid French door refrigerator with a bottom pull out freezer. Its about 10 years old and has been very good at keeping our food fresh. My wife would say that the freezer is on the small side, and I think it could have been a little bigger myself. Fast forward 10 years and it would appear that this exact model is still being made and sold under many different brand names. Unfortunately we are having a freezer door issue.
Freezer Door Issue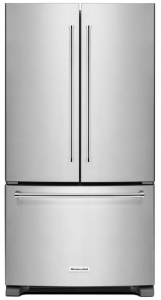 Last night I opened the freezer and there was frost building up on the left side. After a quick inspection I noticed the door was not fully closing on the left. There was about 1/8″ gap at the top of the door and the seal.
After an exhausting Google/Youtube  search I kept coming up empty. Search results had shown fixes for some bottom draw freezers, mostly GE models. These units had set screws and adjusters to help align the door, my unit has no such adjustment.
I then started trolling the appliance fix-it sites and message boards and read old posts stating that the freezer draw may need new rails, or the device at the back of the rail that pulls the door firmly closed cold be broken. On my unit when the draw has about 2″ to go mechanisms on the end of the rails pull the door tightly closed.
My Troubleshooting Steps
Continue reading "Quick Fix – My bottom freezer door is not sealing on one side."