The Video doorbell by Ring has been on on the market for quite some time now. So I bet you're wondering why I would blog about this now so late in the game. Well I treated myself to one for Christmas last year and here we are 5 months later and I am enjoying the doorbell very much!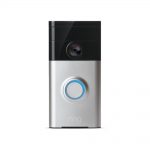 From the second I opened the box I could tell that the unit was very sturdy and built to handle the elements. The construction looked good and according to the manual installation was going to be a breeze. After letting the unit charge overnight and a brief setup pairing the Ring to my WiFi, I was able to mount it to my front door in under an hour. Since the device has an on board battery the unit can be installed with or without full time power. I decided to use the existing doorbell wire and indoor chime which was attached to a 20v AC transformer in my basement.
Ring comes in 4 colors to match your home – 2 types of brass, nickel and bronze. You can pick one up at Amazon for under $200.00
INSTALLATION
Mounting the doorbell was extremely easy. After removing the old doorbell
simply attach the included mounting plate to your home with the included hardware. They even included the screwdriver and a handy level in the box. On the mounting plate there are two screw terminals for you to connect your existing bell wires. Since most doorbell transformers are AC the positioning (polarity) of the wires does not matter.
Now your ready to attach the Ring unit to the mounting plate. At the very bottom of the unit there are two "security" screws that need to be loosened first. No worries, once again the screwdriver is included. Next, slide the unit onto the bracket and tighten the screws to secure. If you chose to install the unit without external power keep your security screwdriver handy, you will need it to remove the ring for charging every 6 months or so.
Now its your turn to watch the UPS driver throw your Amazon packages, or freak out the Girl Scouts selling cookies! Remember you can add all your family members to the app so everyone can be on the lookout! Continue reading "Ring Wi-Fi Enabled Doorbell Is A Real Ringer!"