If you frequently read this blog you know I enjoy computers and I am also fond of cars. For the last 20 years I especially enjoy wasting some time on a Saturday or Sunday detailing my ride.  I feel the art of detailing cars has been lost. Most drivers tend to visit the car wash and let the automatic machines pound the dirt off the finish. I'm not saying that the car wash is a horrible place to take your precious ride, however a hand wash and wax in the driveway is the kinder gentler approach to keeping your vehicle looking like new!
The Wash: – Supplies
All soaps are not created equal. When washing your car use a soap that is specifically designed for the task. Dish soap or Mr. Clean are NOT good choices since they tend to strip any wax or protectant that may already be present.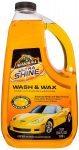 My favorite soap is ArmorAll Wash & Wax. They claim it adds a coating of Carnauba Wax while it washes. In all the years I have used this stuff I have never seen it add a "Wax" coating to the paint, however it at least doesn't strip the wax off the paint.   It's also relatively inexpensive at about $14.00 for a large bottle.
You are also going to need a good bucket, preferably one that has a segregated wash and rinse side. Or this cool bucket I found. It has a screen at the bottom for filtering out the dirt as well as casters to easily roll the bucket from one side of the car to the other.  Automobile paint is easily scratched and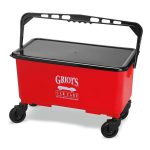 the grime coming off the car can easily scratch the paint if not rinsed completely. Its a bit pricey at $44.99, but your cars finish is worth it!
They make plenty of different car wash cloths, hand sponges and Microfiber towels to do the washing. I prefer to use an old T-shirt as my cloth of choice. However if you need a good wash cloth you can't go wrong with Microfiber. Only $14 for two dozen!
The Wash: – Procedure