Most homes don't have network cables running to each room, so many of us rely on WiFi to connect our devices while at home. The problems begin when the ISP installs our router / WiFi box in a less than optimal location, and usually it can not be easily moved. This is where a simple WiFi extender can augment your existing signal and extend the reach of your home network to every corner of your house even the back yard.
How WiFi Extenders Work?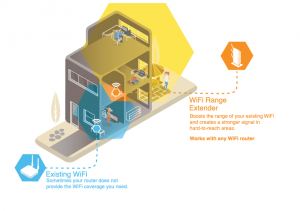 In its simplest form a WiFi extender is just a repeater. The extender is listing for a signal from your home WiFi router and repeats that signal "LOUDER" in an area of your home that is not hearing your main WiFi signal. Basically just relaying the information between your device and the main router. Think of the extender as a "man in the middle"
Where Do I Place My Extender?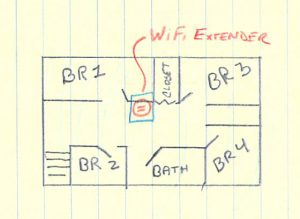 The first step to installing a WiFi Extender is obviously setup. Some models have a touch screen to allow for a quick and easy setup. Others can be connected to your PC via USB to input settings or can be connected over WiFi. Once the setup has been completed it is important to select the proper location. You need to find Continue reading "Poor WiFi Signal At Home? A WiFi Extender Can Help!"