My 2017 Lexus GS 350 needs a new air filter. It's been about 20,000 miles and is ready for a replacement. No matter what car I drive, weather it be a $500 Honda Accord or my GS I'm still a do-it-yourself kind of guy and refuse to hand over money for something I can easily do on my own. The Lexus dealer can and will charge upwards of $150 to replace the air filter. If you follow my instructions below I will save you over $100 and have your car done in 5 to 10 minutes!
Where to get the correct air filter?
I like to shop on Amazon, they usually have great prices and with my prime membership the orders arrive at my door super quick.
There are quite a few manufactures that make replacement filters for the GS, I tend to steer toward name brands I trust and have used in the past.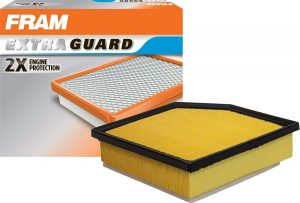 Fram is my first choice in filter, they tend to be slightly more expensive than other brands, but they perform well and last. This particular filter has an extra layer of filtration material on the bottom. I haven't seen that previously on others. I'm curious if it adds that much more filtration without cutting down the airflow to the engine.  $33.99 at Amazon Continue reading "2013-2018 Lexus GS 350 Air Filter Replacement Procedure"